What is Korfball?
(a common question)
Korfball is the only truly mixed gender sport in the world.
It has similarities to netball, basketball and handball but the sport's defensive play and tall baskets make it unique. A team is comprised of eight players: four male & four female. Each player is responsible for marking a player of the same sex from the opposing team when defending while all players have the opportunity to shoot when in attack.
Sound interesting? Check out some footage from one of our games on the link below:
https://www.youtube.com/watch?v=HPfWyAY27jI
Korfball was invented by the Dutch schoolteacher, Nico Broekhuysen, in 1902. The sport remains most popular in the Netherlands where there are over 100,000 players. Its popularity however is spreading globally. The sport takes its name from the Dutch word "korf" which simply means basket. These baskets are bottomless with no backboard, standing at an impressive 3.5m or 11.5ft.
film porno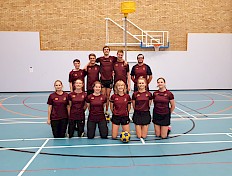 Who are SUKC?
We're National Champions, League Victors and Cup Winners. 
But more than that, we're a tight Spartan family, both on and off the court. We're a bunch of people who have fallen in love with a sport they had never heard of before Uni. 
We're always looking to expand our legion and - contrary to our fierce reputation - are the friendliest bunch around. Become a Spartan today!