Information for New Members
Membership details:
We welcome new players at any time during the year and offer anyone who wants to come along their first two training sessions for free.
The first taster session of the year will be held on Saturday 29th September in the Team Southampton Sports Hall (B42) on Highfield Campus, between 5pm and 7pm. 
We are offering our annual membership at a one off price of £60!
This bargain includes all of the following:
All travel to local leagues
Entry to local leagues
Unforgettable Spartan socials throughout the year
Reduced rates on tournaments and tours
Qualified coaching every week
Opportunity to do additional korfball courses
A social shirt 
Note: Please remember that you need to purchase 'Sports and Wellbeing' Membership before you can become a member of the club, as with most clubs at the university.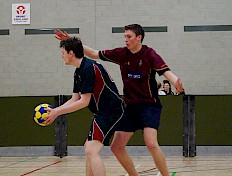 Who are SUKC?
We're National Champions, League Victors and Cup Winners. 
But more than that, we're a tight Spartan family, both on and off the court. We're a bunch of people who have fallen in love with a sport they had never heard of before Uni. 
We're always looking to expand our legion and - contrary to our fierce reputation - are the friendliest bunch around. Become a Spartan today!