Contact Us
Email us: korfball@soton.ac.uk
Follow us on Twitter: @sotonkorfball
Follow us on Instagram: @sotonunikorf
Like us on Facebook: /sotonunikorf

University of Southampton students can also join our Facebook group which is the best way to keep up to date with the club. 
Find Us
We train 7:30 - 9:30pm every Tuesday in the Old Sports Hall, which is at the bottom of the Union building on Highfield Campus. 
We play our home matches in the same hall at 6:00pm on a Sunday.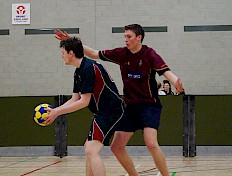 Who are SUKC?
We're National Champions, League Victors and Cup Winners. 
But more than that, we're a tight Spartan family, both on and off the court. We're a bunch of people who have fallen in love with a sport they had never heard of before Uni. 
We're always looking to expand our legion and - contrary to our fierce reputation - are the friendliest bunch around. Become a Spartan today!